宝石 / Gems
不锈钢架、软饮果汁 / stainless steel frames, soft drinks and juice beverage, 200×150×8 cm 件 / each,共计11件 / a set of 11 pcs,总体尺寸可变 / overall dimensions variable,2013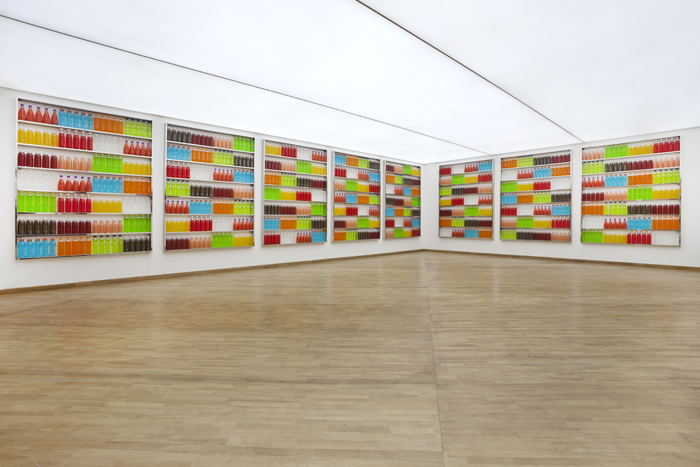 作品自述 / Artist Statement:
"宝石"的灵感来自国际媒体对世界范围内发生的"颜色革命"和"阿拉伯之春"的浪漫化命名。我通过对这11个国家"革命"的名称和图像的取样,汇总出一组"革命色系",并从日常生活中选取了符合该色系的11种颜色的在售饮料;在去除包装后,按照11个国家所在的经度,由西往东规律性的衍生排列出跳跃但不重复的图案,以链接起"消费"与"革命"这两种原本不相关的社会产品。
The work of Gems is inspired by the romanticism of "color revolution" and the "Arab Spring" unfolding on a globally on international media. I sampled the titles and images of the "revolution" of these 11 countries and consolidates them into a series of "revolutionary color spectrum" , I then selects 11 types of soft drinks sold in supermarkets that correspond to this color spectrum. Once the label the soft drinks are taken off, they are placed in an order according to the longitude of the country from west to east, the cacophonous yet non-repetitive pattern connects the unrelated social products of "consumption" and "revolution".
*
展出履历 / Related Exhibitions:
激烈食堂,西岸艺术中心,上海,2016
转向:2000后中国当代艺术趋势,民生现代美术馆,上海,2016
激振波,泰康空间,北京,2013
Radical Canteen, West Bund Art Center, Shanghai, 2016
Turning Point:Contemporary Art in China Since 2000, Minsheng Art Museum, Shanghai, 2016
Excitation Waves, Taikang Space, Beijing, 2013