渔舟唱晚 / Global News
单频道标清录像,CRT电视机 / single-channel SD video, CRT television set,有声 / sound,2'14",2013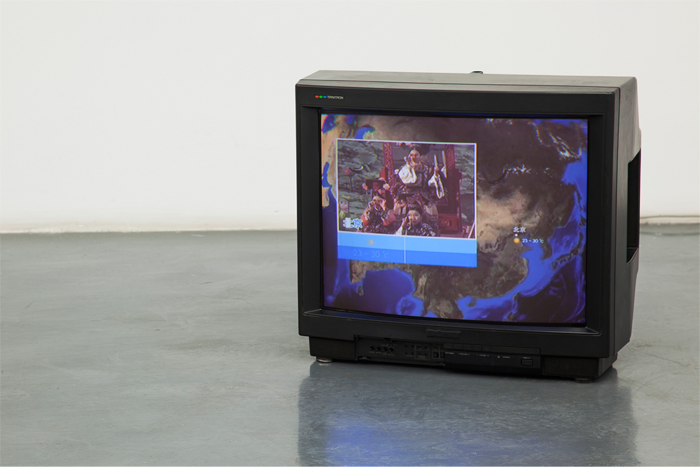 作品自述 / Artist Statement:
在过去的40年里,中央电视台的晚间天气预报一直保持着一些不曾改变的范式,比如:与点状城市互动的国境地图,关联城市的广告窗口和作为背景音乐的《渔舟唱晚》等。在地理上的认识自己的城市和国家疆域的关系,可能一直是天气预报肩负的一种使命。而"画中画"形式的广告窗口则帮助观众建立了对为数众多的"外地"的基本认知。早年间,这一窗口中的图像皆是各地宣传风光名胜为主的旅游资源,不多久,又进一步成为地方企业的广告平台。加上浦琪璋改编的电子版民乐,整体上,作为电视节目的天气预报自我构建了一个清净太平的疆域。可是作为成长于全球化时代的一辈,国际流行文化的涌入,一定程度上令年轻人对认识更广阔世界显得心情急切。而在关于全球各地的图像之中,最具感召力的显然是电影中出现的图像。经由它们,我们似乎对许多从未踏足的地域也有了某种了解。为了将多年累积起来的虚拟经验串联于一处,我仿效了央视天气预报的经典形式,以"国际化的视野"拓展了它的播报范围。同时,在所经城市或地域之时,也采用了电影中的戏剧性图像来充填界面中的广告窗口。至于世界各地的天气情况,则源自于我对这些图像中提示的气象条件的主观判断。
Over the past 40 years, the China Central Television (CCTV) evening weather report has unwaveringly stuck to its unchanging patterns. For example, the map displaying the national borders that shows interactive dotted city shapes, the advertisement windows that correlate with each city, the classic Chinese "Fisherman's Song" playing in the background, etc. It appears that the mission of propagating geographical knowledge of one's city as it relates to one's national territory has always been shouldered by the weather report. The use of advertisement pop-ups as an "image within an image" is an aid that helps the audience establish a basic cognitive understanding of the numerous "foreign lands". In the early days of the broadcast, the images in the main screen window mainly served as a resource for touristic travel, showcasing the places of interest to be found in each location. Not long after, it became an advertisement platform for the companies in each locality. Furthermore, with the addition of electronic folk tunes adapted by composer Pu Qizhan, the weather report as a TV-program has on the whole constructed itself into a land of purity, peace and tranquility.

But with this generation easing its way into the age of globalization, the influx of international popular culture makes young people feel somewhat anxious about getting to know more and further reaches of the world. And among the images of places worldwide, the ones that hold the most emotional appeal are apparently the images that appear in movies. By means of these images, we seem to gain an understanding of numerous places where we haven't yet set foot. In order to bring together fictional experiences which collected over a span of several years, I imitate the classical style of the CCTV weather report, and broadens its scope into a broadcast with an "international horizon". At the same time, in passing through these cities or regions, I also adopt dramatic images taken from movies to supplement the advertisement windows in the program's interface. The worldwide weather conditions shown in the work are dependent on my subjective appraisal of meteorological conditions as they appear or are mentioned in the pictures themselves.
*
展出履历 / Related Exhibitions:
Replay,空白空间,北京,2018
新群众,南京艺术学院美术馆,南京,2018
"我们"之间, 朱家角尚都里,上海,2017
旋构塔 - 青年艺术实验场,北京时代美术馆,北京,2016
雨天炎天,艾克画廊,上海,2013
Replay, White Space Beijing, Beijing, 2018
The New Masses, Art Museum of Nanjing University of Arts, Nanjing, 2018
Twin Interfaces, Shangduli, Zhujiajiao, Shanghai, 2017
Up-Youth:China Young Artists Exhibition 2016, Beijing Times Art Museum, Beijing, 2016
Come Rain or Come Shine, Aike Gallery, Shanghai, 2013