余粮
/
Surplus Value
乙烯-醋酸乙烯脂 / ethylene-vinyl acetate,70~100×180~200×6.5~9 cm 件 / each,共计24件 / a set of 24 pcs,总体尺寸可变 / overall dimensions variable,2014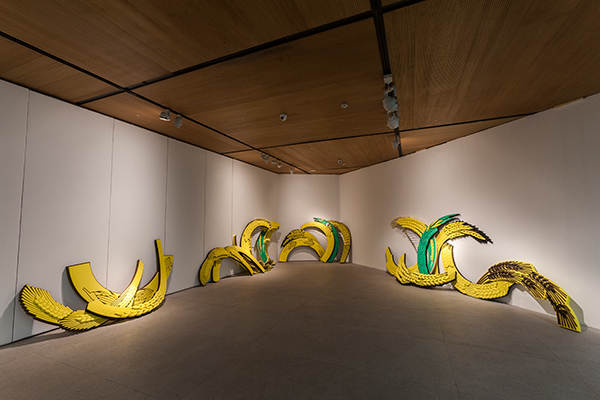 作品自述 / Artist Statement:
通过维基百科,我收集了12个前社会主义国家国徽里具有显著视觉辨识度的粮食图样。我希望将它们从建筑和纪念碑语境中分离出来,在某个角落里集中堆放出"丰收的景象"。我注意全球化的消费市场上流行的彩色发泡塑料可能和这种网络历史经验有些想通之处。我选择借用这类轻工业材料背后所隐含的社会属性:辅助安全,无伤害性和可抛弃性。规模化供应这类消费品的中国通过跨国制造业,大量吸收并改造了第一产业的剩余劳动力,进入到了第三产业的生产关系之中,这里"粮食"由此可否被视为一种"产业升级"?因为选择使用这些图像,讨论它们的语境也避免不了要被联系上流行的"后共产"话语,而真正令我好奇的是,冷战后的世界是否能存在一个看得见摸得着的"地缘政治收益"?
Through Wikipedia, I collected several distinctly recognizable grain-symbols were amassed from 12 national emblems of former socialist states. I hope separates them from the architectural structures and monuments that they used to adorn, then assembles them in a corner, thus creating a "harvest landscape". I noticed the colorful styrofoam appearing on the globalized consumption market could have something in common. I chose to use such light industry materials with the intention to hint at the social attributes inherent in these types of products: supplementary safety, harmlessness and disposability. Through transnational manufacturing industries, China supplies this type of industrial goods on a large scale absorb and transform a great portion of the excess labor force from the primary industries into the tertiary industries. Thus, can the "grain" be viewed as a "industrial upgrading"? Because of choicing to use these images, when we talk about their context it's impossible to avoid association with the popular term "post-communist". But what truly interests me, is the question whether visible and tangible "geopolitical gains" can potentially exist in the post-Cold War world.
*
展出履历 / Related Exhibitions:
第二届CAFAM未来展:创客创客•中国青年艺术的现实表征,中央美术学院美术馆,北京,2015
土豆烧牛肉,空白空间,北京,2014
The 2nd CAFAM Future Exhibition: Observer-Creator • The Reality Representation of Chinese Young Art, CAFA Art Museum, Beijing, 2015
Goulash, White Space Beijing, Beijing, 2014