加州来的谢谢 / Thank You From California
丙烯、亚麻布、木框 / acrylic, linen, wooden-frame, 75×40×5 cm,2017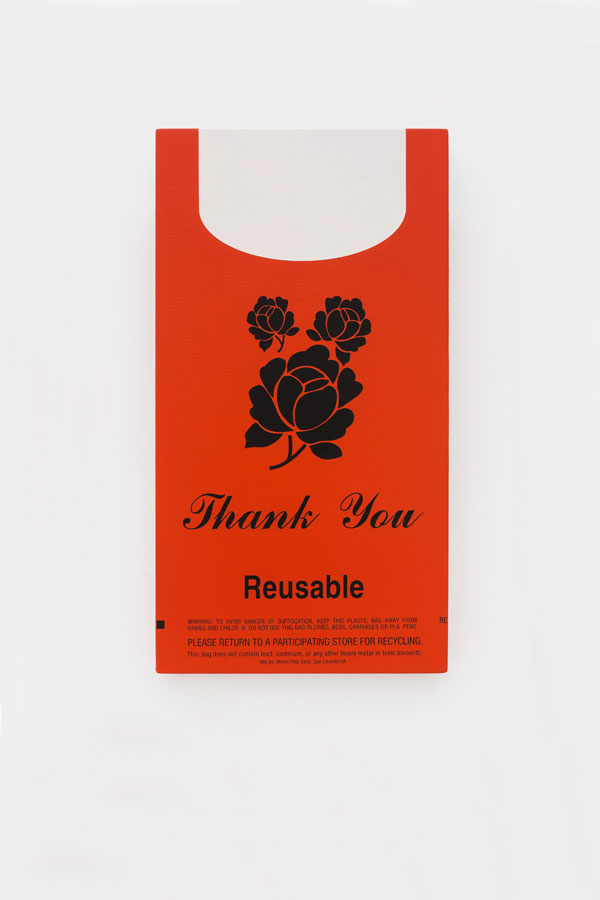 作品自述 / Artist Statement:
我收拾工作室时翻出来一个红色塑料袋,上面印着中国月季的图案,"谢谢"和"可重复利用"的字样,还有可至窒息的危险提示以及产地信息。这个袋子是我从伦敦带回来的,来自我拜访的一对经营杂货店的香港老夫妇。老先生用它为我装了些自己培育的蔬菜种子,还谈到了他们在加州的旅行。现在,这个口袋一路辗转到了北京。引起我注意的是它自身携带的文本在不同地理空间和文化环境中流动,时刻传递着一种和气谨慎无害的气息,这让我联想到近代以来华人在西方主导的世界里所经历的生存状态。装了东西的塑料袋和套在身上的背心有些相似,所以我挪用了它的形象,做成一幅关于的海外中国人的肖像画。
When I was cleaning the studio, I found this red plastic bag that has on it a Chinese rose pattern, texts of "thank you", "reusable", a suffocation warning, and where it was manufactured. I took this bag back with me from London: I visited this old Hong Kong couple running a grocery store there, and the old gentleman gave me a bag of home-grown vegetable seeds with it. He also talked to me about their trip to California. This bag was then traveled with me and is here in Beijing at this moment. It catches my attention, because the text that is itself moves and navigates its way in different geographical and cultural contexts, and tries its best to convey this message that is gentle, polite, and harmless. I relate this to the living condition of Chinese diaspora in the modern world that was dominated by the West. I also think a full plastic bag looks just like a vest on a human body, so I divert it into a portrait of overseas Chinese.
展出履历 / Related Exhibitions:
HOW NOW:生活应用,昊美术馆,上海,2019
上海廿一博览会,上海展览中心,上海,2017
HOW NOW: The Life APP, HOW Art Museum, Shanghai, 2019
Art 021, Shanghai Exhibition Center, Shanghai, 2017