复兴之路 / The Road of Arab Ba'ath Movement
道闸机、聚氨酯发泡板、继电器、电缆、方钢、密度板 / boom barriers, polyurethane foam boards, electric relays, cable, square steel tubes, medium density fiberboards,239~285×117×100 cm 件 / each,a set of 4 pcs,总体尺寸可变 / overall dimensions variable,2016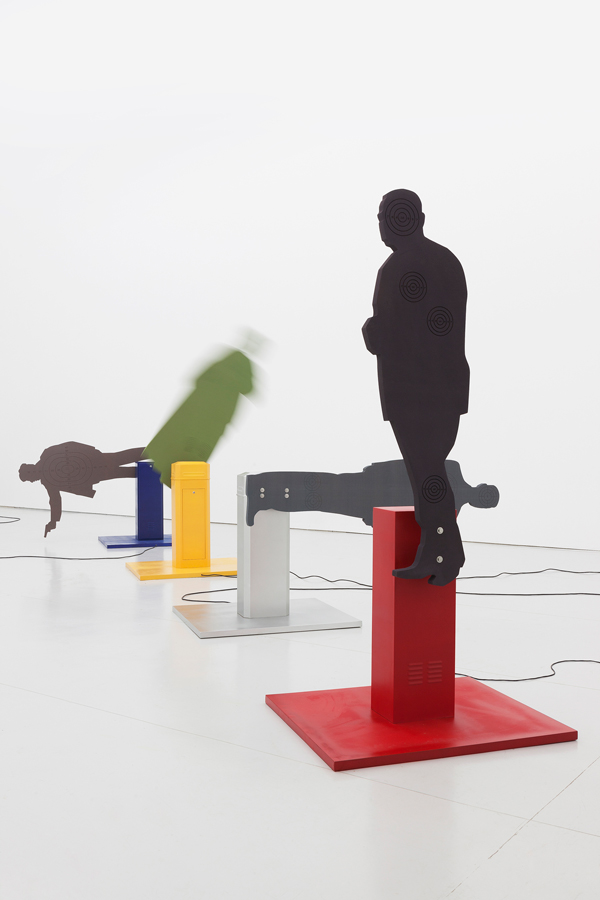 作品自述 / Artist Statement:
四位阿拉伯复兴党的领袖:穆巴拉克、阿萨德、卡扎菲、萨达姆的侧身剪影被请上事关"秩序建设"的道闸机。每间隔几分钟,枭雄的身影便会在展厅中随机耸立或卧倒。雕刻在人物正反两面的标靶使其添加了悲剧性特征,这些致力于构建世俗秩序的雕塑的命运,在机械的介入下,悖论性地开启或阻断这条理想中的复兴之路。
Profile silhouettes of the four leaders of the Arab Ba'ath party - Mubarak, Assad, Gaddafi and Saddam - are hoisted onto boom barriers signifying "the construction of order". Every few minutes, the silhouette of an ambitiously heroic figure randomly towers aloft or lies prostrate inside the gallery space. The marksmanship target engraved on the front and back of the figures impresses upon them the added feature of tragedy. The fate of these sculptures striving strive to establish a secular order is such that, given the alternating intervention of the leverage mechanism, the idealized road to revival is paradoxically either opened up or cut off.
*
展出履历 / Related Exhibitions:
香港巴塞尔博览会,香港会展中心,香港,2018
十万八千里,空白空间,北京,2016
Art Basel Hong Kong, Hong Kong Convention & Exhibition Center, Hong Kong, 2018
Hundred Thousand Miles Away, White Space Beijing, Beijing, 2016