十万八千里 / Hundred Thousand Miles Away
2016年6月11日 - 7月31日 / Jun 11th - Jul 31st, 2016
空白空间,北京 / White Space Beijing, Beijing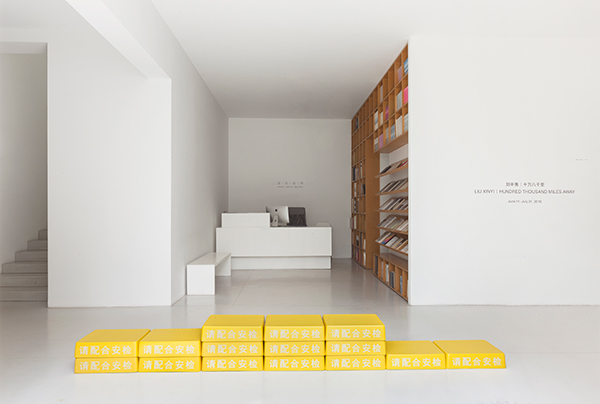 项目自述 / Artist Statement:
当事物的样貌试图背离其实质时,用于表述的语汇最先遭遇了困境。离散的结构导致了意义的偏移,常言道:相去十万八千里。正因为语言的无可奈何,才迫使我们对概念进行悬置,以便打开熟悉事物的知觉边界。查验一番"十万八千里",也能发现一个层叠的现场。它既可以是两个概念之间的距离,也可以是两点之间距离的概念。概念的距离叠加着距离的概念,像是语言直觉下的自相缠绕。更有某些宣传语汇和符号可以在不改变外在形式的情况下,令其内涵在传播中转译,在歧义中腾挪。有鉴于此,因势利导地关联起常识中相距甚远的事物,或是破除定见的契机。在此次展览中,我考察了理论上具有交互特质的当代新闻讯息,特别是国内舆论中有关"域外"的信息景观。通过"流通"和"边界"这对辩证性的线索,展示一种在现实经历与知识经验的夹缝中辗转建立起的认知回路。
When the appearance of the matter tries to depart from its essence, the vocabulary for its expression is often the first to encounter obstacles. The dispersed contexts cause the meanings to skew, like the Chinese adage, "They are a hundred thousand miles away from each other". It is also due to our helplessness towards language that forces us to be suspend the ontological meaning of the objects we are familiar with, by which opens up their sensory boundaries. If we take a closer look at the "hundred thousand miles away", we may also discover a layered site. It can be both the distance between two concepts, or the concept of distance between two points. The difference in concepts overlaps with the concept of distance, like the mutual entanglement underneath one's linguistic instinct. Moreover, certain advertisement lingo and icons undergo semantic translations in the course of its dissemination without changing its appearance that transform through their differences. On this account, we have to make the best out of relating drastically different objects in our general knowledge, or find an opportunity to abolish preconception.For this exhibition, I surveyed today's news and public information that are theoretically interactive, especially spectacle concerning "foreign" informaiton within domestic social commentaries in China. With the dialectical cues of "circulation" and "boundary", I intend to explore a path of cognition built in my circumvention between personal experiences and received knowledge.

项目资料下载 / project dossier download