极目时刻 / A Constitutional Moment
出版物 / publication,5.5×4×1 cm,2018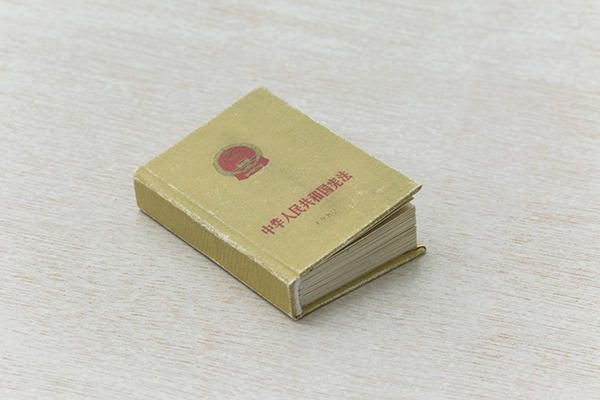 作品自述 / Artist Statement:
年初作为公共事件的宪法修正案带给我诸多想象,例如当前适用的这部宪法其实和我同岁,而且在近似的年份中,我也经历了有关现实认知上的反复修订。这种潜在的关联感,让我关心起宪法这样的抽象事物在人之外的现实时空中,还留下过什么样的物质证据。我注意到,除了通过媒体渠道向公众颁布通过修订后的文本外,国家也一直以书籍出版的形式,向社会公开发行经过更新的宪法单行本。我由此找来一部自己出生年代出版的八二宪法,在记录了这份出版物中所有页面的图像后,再将它们缩小到袖珍的尺幅,并重新装订成册。借此行动,让我可以留住一种远眺的知觉,来适时回望自己和这个时代的共同起点。
The constitutional event by the beginning of 2018 brought me many thoughts and imaginations. The constitution that is presently in use is as old as I am, and I have been going through constant changes and amendments as such in reality in recent years. This inherent association urges me to be concerned with the tangible evidence and traces left in the world of reality, of something as abstract as the constitution. I have realised that, besides publishing the amended text to the public via various channels, the country has also been publishing updated constitutions as independent publications over the years. I have found a publication as such issued in 1982 - the year I was born - made records of all the images in it, and produced a re-edited miniature version of it. By doing so, I am able to maintain an outlook from a distance, and to review the shared the point of origin for both me and the era, when it becomes appropriate to do so.
*
展出履历 / Related Exhibitions:
a one and a two,阿那亚艺术中心,秦皇岛,2020
On Paper 2,空白空间,北京,2018
A One And A Two, Aranya Art Center, Qinhuangdao, 2020
On Paper 2, White Space Beijing, Beijing, 2018