万事如意
/ Best Wishes
丙烯、亚麻布、木框 / acrylic, linen, wooden-frame,70×50×3 cm,2018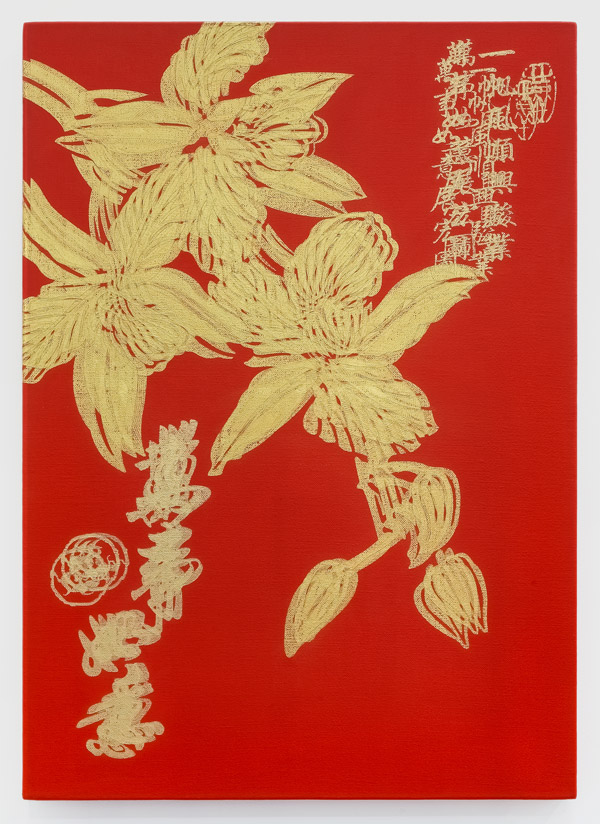 作品自述 / Artist Statement:
《万事如意》这件作品中的图像原型来自我十多年前在伦敦时收到的一只特别的节日红包:在熟悉的民俗体验之外,还能看到红底烫金的图样被略微错位地叠加在一起,这应是批量印刷过程中出现的错版,流通到达了地球的另一边。尽管它视觉上的重影看着有些眩晕,但仍可以读到两行寓意温厚的祝词:一帆风顺兴骏业,万事如意展宏图;此外也不难分辨出图样中的紫荆花。这件旧物总能让我意识到当代中国即便是在深度嵌入世界经济循环的今天,终有重归自足的古典愿景如影随形。
2018年末,我偶然了解到数字地图API的开发者的一项发现,即国内公开发行的数字地图,出于国家安全的原因,都必须辅以特定算法,以便对真实的地理信息系统进行坐标加密。这令我回忆起自己在香港的旅行中也曾经历过相关的困扰:手机应用在跨境使用中,总会出现显著的定位失准;而在国内查看主流的地图应用时,也可以在同一个实地场景中,获得三种互不相同的经纬度值。
受此触发,我将我收藏的错版红包上的喜庆图像分离出来,匹配上我工作室所在点位的三套地理坐标的相对位置,并依据当年出版的一种竖版中国地图的尺寸,严格地将它绘制了三遍。
The image of Best Wishes references a particular festive red envelope I received in London over a decade ago: beyond the accustomed folkloric experience, one can see the slightly misplaced overlay of the gilded image on a red background. It must be that a misprint occurred in the batch printing process and circulated to the other side of the globe. Despite the dizzying visual effect of the overlay, the two lines of good-natured greetings are not illegible: A plain sailing brings wealth; Best wishes on a great prospect; and it is not difficult to distinguish the flower, bauhinia, in the pattern. This old object has constantly reminded me that even today, when contemporary China is deeply implicated in the global economic cycle, there remains a classical vision of a return to self-sufficiency.
At the end of 2018, I stumbled upon discovery by developers in the field of digital maps API that all publicly released digital maps in China, for national security reasons, must be supplemented with specific algorithms to encrypt the coordinates of the authentic Geographic Information System. It reminded me of a related nuisance I had experienced during my travel in Hong Kong: mobile apps invariably showed significant positioning inaccuracies when used across borders. And when checking mainstream map apps in China, one can also find three sets of different latitude and longitude values for the same site in real-life.
Prompted by the discovery mentioned above, I extracted the initial festive image from the misprinted red envelope I collected, matched it with the relative positions of the three sets of geographical coordinates of the spot where my studio was located, and drew it three times rigorously according to the dimensions of a vertical map of China published in the same year.
*
展出履历 / Related Exhibitions:
Happy Once, Happy Twice,CCC跨文化中心,上海,2022
香港巴塞尔博览会,香港会展中心,香港,2019
登录舒适区?,泰康空间,北京,2018
Happy Once, Happy Twice, Center for Cross Culture, Shanghai, 2022
Art Basel Hong Kong 2019, Hong Kong Convention & Exhibition Center, Hong Kong, 2019
The Comfort Zone At A Distance ?, Taikang Space, Beijing, 2018