自动手臂 / Automatic Arms
招财猫、电池、螺丝 / lucky cats, batteries, screws,25×18×13.5 cm 件 / each, 共计184 件 / a set of 184 pcs,总体尺寸可变 / overall dimensions variable 或参考 / or Ref as 25×273×232 cm,2010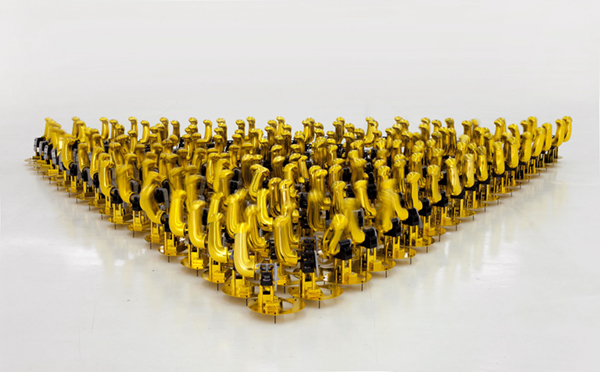 作品自述 / Artist Statement:
"自动手臂"是一组改造自摇臂招财猫的活动装置。作为一种常见于小型店铺和餐馆的摆件,招财猫一般寓意生财和福气。虽然源于日本,但因为绝大部分的招财猫都在中国制造,又暗合供奉财神的中国民俗,不经意间,竟也被视作一例中国符号。更有趣的是,常见的中国版招财猫都有一副电动摇臂,意合招财进宝,人丁兴旺。但这一改动究竟为何人所创,似难考证。带着诸多想象,这个项目意图借题发挥,从视觉上混淆商业和革命的浪漫象征。通过卸去外壳以显现结构,再经由切割猫爪,并旋转方向,"招财"变成了"抗议"。
Automatic Arms is a kinetic installation consisting of a group of altered Good Fortune Cat (Maneki Neko or Lucky Cats) statuettes with arms that automatically rock back and forth. These ornamental Good Fortune Cat statuettes, often encountered in small storefronts or restaurants, signify moneymaking and good blessings. Although originally hailing from Japan, these Good Fortune critters are for the most part made in China. Tacitly coinciding with the Chinese folk custom of worshipping to the God of Prosperity, they inadvertently became part of the staple of Chinese symbols. Interestingly enough, the Chinese version of this Fortune-inducing feline has an electrical rocking arm, implying the granting of one's wish of making money and having one's desire for progeny fulfilled. It remains hard to verify who was responsible for this alteration in meaning. Brimming with imaginative energy, this project intends to comment on ulterior themes, departing from the aesthetic, and mixing in romantic symbols of commerce and revolutionary transformation. By shedding the outer shell and displaying the inner structures, cutting short the claws of these cats, and altering the direction of the arm's torque, the cat's original "fortune waving" motion becomes a gesture of protest.
展出履历 / Related Exhibitions:
城市乐园:泰康收藏精品展,东海国际中心,深圳,2021
生命惊奇:泰康保险集团25周年艺术收藏展,嘉德艺术中心,北京,2021
中国风景:2019泰康收藏精品展,A07号楼,798艺术区,北京,2019
向左拉动:不保持一贯正确,Urban Arts Space,俄亥俄州立大学,哥伦布,Hillstrom Museum of Art,古斯塔夫阿道尔夫学院,圣彼得; The Trout Gallery,迪金森学院 + The Rose Lehrman Art Gallery & Fenêtre Gallery,哈里斯堡社区大学, 宾夕法尼亚州,2014~2015
入戏出戏 — 刘辛夷、王韬程、叶甫纳三人展,余德耀美术馆,雅加达,2013
艺术北京,全国农业展览馆,北京,2013
探员L,空白空间,北京,2012
边缘,曼彻斯特亚洲三年展,4 Piccadilly Place,曼彻斯特,2011
Paradiso: Selections From the Taikang Collection, East Pacific International Center, Shenzhen, 2021
Miracle of Life: Art Collection Exhibition for Celebrating the 25th Anniversary of Taikang Insurance Group, Guardian Art Center, Beijing, 2021
China Landscape:Selections From the Taikang Collection 2019, No. A07, 798 Art Zone, Beijing, 2019
Pull Left: Not Always Right, Urban Arts Space, Ohio State University, Columbus; Hillstrom Museum of Art, Gustavus Adolphus College, St Peter; The Trout Gallery, Dickinson College + The Rose Lehrman Art Gallery & Fenêtre Gallery, Central Pennsylvania's Community College (HACC), Pennsylvania, 2014~2015
Action…Cut! — Liu Xinyi, Wang Taocheng, Ye Funa Joint Exhibition, Yuz Museum, Jakarta
Art Beijing, Naitonal Agricultual Exhibition Center, Beijing, 2013
Agent L, 2012, White Space Beijing, Beijing, 2013
Peripheries, Manchester Asia Triennial, 4 Piccadilly Place, Manchester, 2011