马恩列斯毛 / From Marx to Mao
园林铁丝、棕片 / gardening wire, palm fiber,28~45×23~50×16~24 cm 件/each, 共计4件 / a set of 4 pcs,总体尺寸 / overall dimensions:45×310×24 cm,2010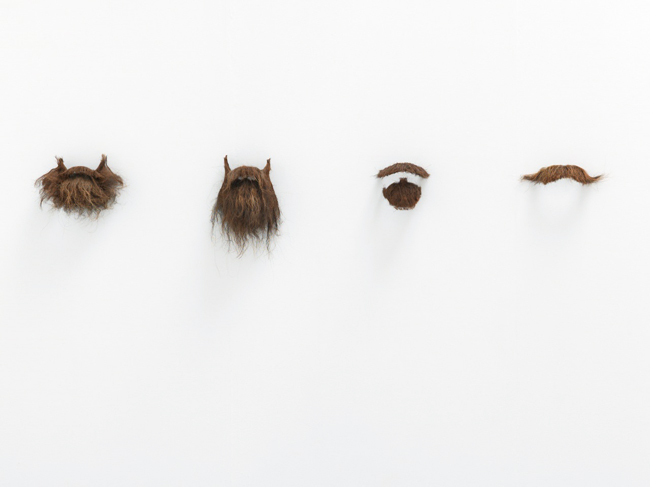 作品自述 / Artist Statement:
寻找理解政治的感性边界是我感兴趣的切入点,这件作品可以说也不例外。全球通用的马恩列斯毛肖像画是国际共运的历史象征,耐人寻味的部分是领袖们的胡子,沿着马克思主义从理论到实践的脉络,越来越稀疏,直至不见。带着这个发现,我决定根据传统的排序,选取领袖们的胡子来纪念国际共产主义运动。
One of the entry points that have aroused the interest of my practice, is the attempt to search for perceptual boundaries that allow us to understand politics. This work forms no exception to that rule. The portraits of Marx, Engels, Lenin, Stalin and Mao found all over the globe, are historical symbols of international communist movements. Food for thought is provided by the fact that the beards of these leader figures grow gradually sparser - to the point of becoming almost invisible - as we follow the progress of Marxism from theory to practice. With this discovery in mind, I based on the traditional way of sorting these historic figures, and chose the beard as a focal point by which to commemorate the international communist movement.
*
展出履历 / Related Exhibitions:
没有信息是中立的,SSSSTART,上海,2017
入戏出戏 — 刘辛夷、王韬程、叶甫纳三人展,余德耀美术馆,雅加达,2013
探员L,空白空间,北京,2012
催化生成: 英中艺术设计节,Great Western Studios,伦敦,2011
Being Information, SSSSTART, Shanghai, 2017
Action…Cut! — Liu Xinyi, Wang Taocheng, Ye Funa Joint Exhibition, Yuz Museum, Jakarta, 2013
Agent L, White Space Beijing, Beijing, 2012
The Catalyst: UK China Art and Design Festival, Great Western Studios, London, 2011