美容美发 / Beauty Salon

三频道标清录像装置 / three-channel SD video installation,无声 / silent,5'56'',2012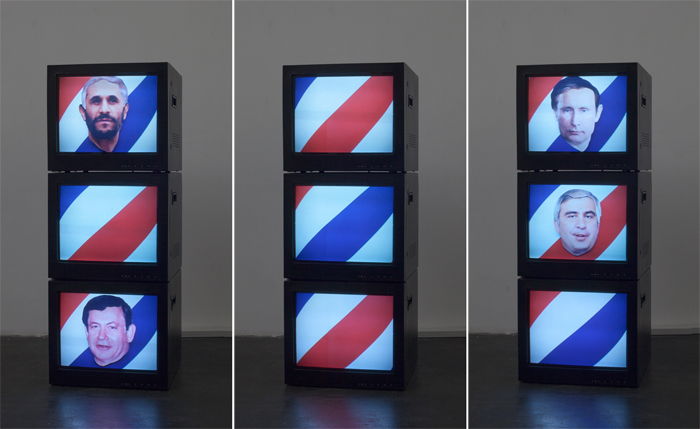 作品自述 / Artist Statement:
从世界各大地区中,我挑选了6对地缘政治上的冤家,选取了这些国家的政府领导人的官方肖像,通过物理拼贴,互换了他/她们之间的发型。在代表了自由、平等和民主的三色图案前,政治家们的新发型似乎让他们更具魅力了。
From each region of the world, I selected 6 exemplary foes on international geopolitics. By chosing the official portraits of their government leaders functioning as a collage of biological traits, the artist exchanges the haircuts between these "sworn rivals". While allowing the altered portraits in front of the tricolor images representing freedo3m, equality and democracy, their new haircuts make them appear to be all the more charming.
*
展出履历 / Related Exhibitions:
入戏出戏 — 刘辛夷、王韬程、叶甫纳三人展,余德耀美术馆,雅加达,2013
九月蠢事,上午艺术空间,上海,2012
Action…Cut! — Liu Xinyi, Wang Taocheng, Ye Funa Joint Exhibition, Yuz Museum, Jakarta, 2013
Conscious Folly, AM Art Space, Shanghai, 2012