一网打尽 / Whole Lot of Stars
艺术微喷 / giclée print,66×100 cm,2012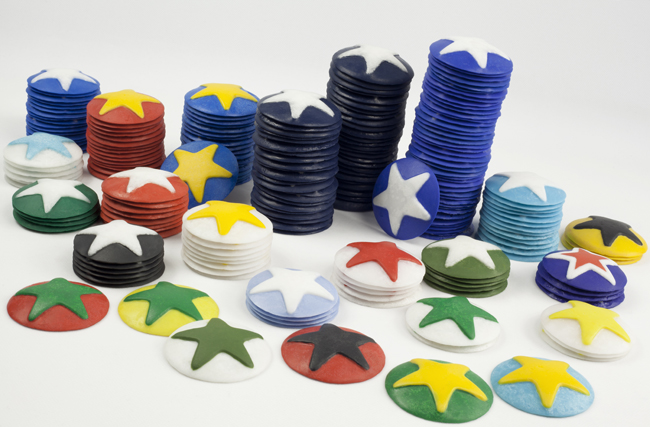 作品自述 / Artist Statement:
五角星作为具有强烈象征含义的图形,应用在各国国旗上的样式繁多。出于希望了解这一符号在常规政治性解读以外的可能性,探寻不同国家的"五角星"之间的相互关系,我通过互联网取样了大量具有五角星图形的国旗,考察它们的色彩搭配,在忽略尺寸和比例的前提下,对这些五角星进行整理和统计。在这一工作过程中,我发现这些五角星的色彩组合相似度超过预期,这令我产生了标准化生产的想法。在完成对这些圆饼状五角星浮雕的制作和分类后,它们在新的关系下自行呈现了一种形似赌场筹码的意象。
The image of the five-pointed star carries a strong symbolical connotation, appearing in a plethora of shapes on the flags of various countries. Stemming from my desire to understand the potential of this symbol outside of conventional political interpretation, and to search for the relation between the 'five-pointed stars' of different countries, I take samples of a large number of flags adorned with this five-pointed star symbol. Upon close scrutiny of their color schemes, unconcerned with their size or proportions, I reorganizes and numerically orders these five-pointed stars. Working in this way, I discover that the similarity in color scheme of these five-pointed stars exceeds any previous expectations, which lead me to the idea of a standardized way of producing objects. After finishing the embossing and classification, the shapes of these cookie-like, five-pointed stars were not unlike those of casino chips.
*
展出履历 / Related Exhibitions:
Another Light, Artshare.com, 2013
青年艺术100,圣之空间,北京,2012
问题现场,空谷艺术空间,杭州,2012
Another Light, Artshare.com, 2013
Art Nova 100, SZ Art Center, Beijing, 2012
Problematic Field, Kogo Art Space, Hangzhou, 2012