贝塔礁
/
BetaReserve
光敏树脂打印,漆,保鲜盒,加湿器,充电宝 / SLA resin 3D printing, lacquer, fresh-keeping boxes, humidifiers, power banks,尺寸可变 / dimensions variable,2021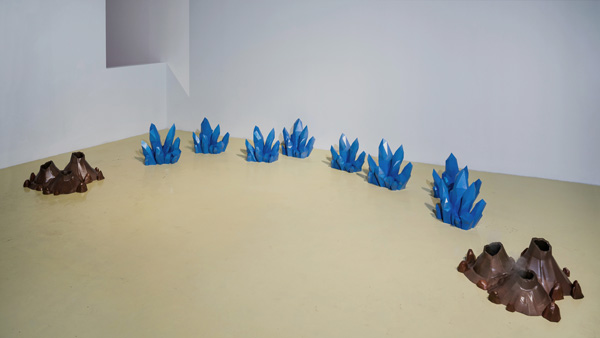 作品自述 / Artist Statement:
在不平等议题持续升温的年头,许多集中暴露的问题都指向总体有限的经济和社会资源。与之同期,我留意到开发了AlphaGo的人工智能企业DeepMind在2019年初,基于电子竞技历史上经久不衰的即时战略游戏《星际争霸StarCraft》开发了AlphaStar,用于测验他们迄今复杂程度最高的实时决策算法。考虑到本届OCAT双年展实验性的平行策展或许会生发一种"西部"感,我移植了这款游戏中代表性的经济资源:水晶矿石和瓦斯气井的视觉样态,以不等比例的实物装置的形态在现实的当代艺术的展示语境中呈现来自数字世界的隐秘边角,以回应艺术行业和社会现实中对公众不可见的稀缺资源的分配机制与博弈。
As the discourse of inequality continues to rise, many of the intensively exposed problems point to the overall limited economic and social resources. Meanwhile, DeepMind, the AI company that developed AlphaGo announced the program AlphaStar in early 2019—based on StarCraft, the Real-time strategy game that has endured popularity in the history of electronic sports—to test their most complex real-time decision-making algorithm to date. Considering that the experiment of parallel curation in this year's OCAT Biennale may give rise to a sense of "the West," I transplanted the iconic economic resources represented in StarCraft, namely crystal ores and gas wells, making them into out-of-scale physical installations. By presenting the unheeded offcuts of the digital world in the context of the physical display of contemporary art, the work is an attempt to respond to the allocation mechanism and the game revolving around scarce resources that are often invisible to the public in the art industry and social reality.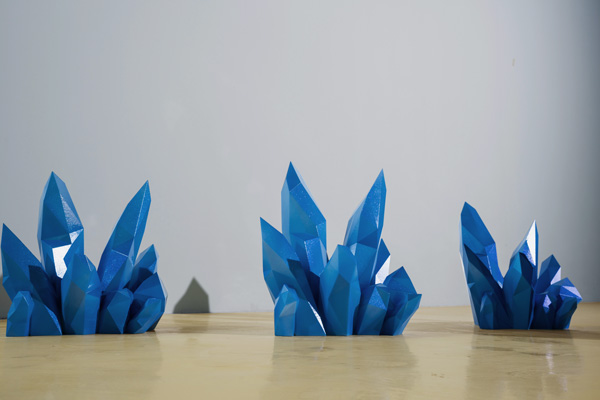 展出履历 / Related Exhibition:
飞去来器:OCAT双年展2021,OCAT深圳馆,深圳,中国 ,2021
Boomerang: OCAT Biennale 2021, OCAT Shenzhen, Shenzhen, China,2021
*
相关文字介绍 / Related Text:
后像 — 为OCAT双年展线上论坛系列第7场《注意力的媒介化》准备的参展作品介绍,2022


Afterimage - An Introduction of the Work of BetaReserve for the 7th Session of OCAT Biennale Online Forum Series "Mediatization of Attention, 2022