世纪崛起 / Rise of the 20th Century
单频道高清录像 / single-channel HD video,无声 / silent,2'06'',2011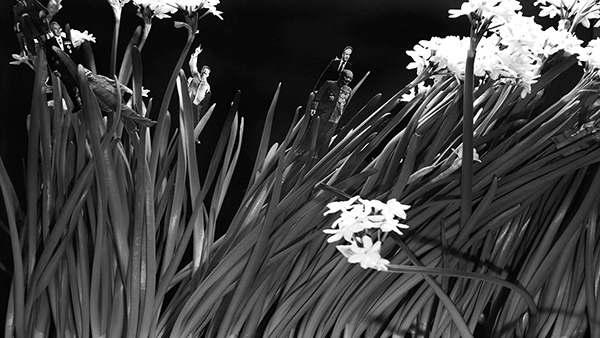 作品自述 / Artist Statement:
因为看问题的出发点各异,凡是具有历史影响的政治人物极少没有落入过争议。为了化解这个难题,我在一个特制的水仙花盆里搭建了一个"秀场"——将曾经推动了世界历史的领袖们的图像附着于水仙叶上。在此,这些"领袖们"可以在人类意志之外的条件下再次彼此竞争。同是"载喻而生",水仙在中国和欧洲的象征意义却极为不同。且不论全球化时代所期待的政治人物是否关乎"凌波仙子"或是"自恋狂",更紧要的问题是:如何让这些熟悉的图像,在神话和政治的引导性解读中获得解放?经由历时一个月的跟踪拍摄,这些水仙的生命历程被编辑为连续的影像,呈现了一次政治和自然的奇异共生。
Given the variety of stances from which to approach an issue, few historically influential political figures have remained spared from controversy. In order to resolve this predicament, I built a "runway" within a custom-made narcissus flowerpot. To the leaves of this narcissus plant, I attach the images of leaders who have spurred on world history. These "leading figures" once again receive the chance to clash and compete with one another, circumventing the will of mankind. Steeped in "honor" as it may be, the symbolical significance of the narcissus flower in China is very different from that in Europe. Whether we expect political figures in this globalized age to resemble a "Fairy Traipsing over Ripples" or a "Narcissus", the more important question remains: how do we liberate these familiar images from the guiding interpretations commonly found in fairy tales or politics? I connected footage from a one-month filming period, making the life process of these narcissus flowers into a non-stop video, illustrating a peculiar symbiosis between politics and nature.
*
展出履历 / Related Exhibitions:
Replay,空白空间,北京,2018
一百种语言,未来森林儿童实验室,南京, 2017
Expanded Senses,B3 动态影像双年展,Museum Angewandte Kunst,法兰克福,2015
动态之再:B3+Beijing 动态影像展,中央美术学院美术馆,北京,2015
中国当代摄影 2009-2014,民生现代美术馆,上海,2014
2009年以来的中国新摄影,武汉美术馆,武汉,2014
灵光与后灵光,中华世纪坛当代艺术馆,北京,2013
入戏出戏 — 刘辛夷、王韬程、叶甫纳三人展,余德耀美术馆,雅加达,2013
On | Off:中国年轻艺术家的观念与实践,尤伦斯当代艺术中心,北京,2013
探员L,空白空间北京,北京,2012
晕轮效应,视界艺术空间,上海,2012
Peripheries, 曼彻斯特亚洲三年展, 4 Piccadilly Place,曼彻斯特, 2011
Replay, White Space Beijing, Beijing, 2018
A Hundred Languages, Future Forest Lab, Nanjing, 2017
Expanded Senses, B3 Biennial of Moving Image, Museum Angewandte Kunst, Frankfurt, 2015
Moving in Time, B3+Beijing, CAFA Art Museum, Beijing, 2015
Contemporary Photography in China 2009-2014, Minsheng Art Museum, Shanghai, 2014
New Photos since 2009, Wuhan Art Museum, Wuhan, 2014
Aura and Post Aura, China Millennium Monument, Beijing, 2013
Action…Cut! — Liu Xinyi, Wang Taocheng, Ye Funa Joint Exhibition, Yuz Museum, Jakarta, 2013
On | Off: China's Young Artists in Concept and Practice, Ullens Center of Contemporary Art, Beijing, 2013
Agent L, White Space Beijing, Beijing, 2012
Halo Effect, V Art Center, Shanghai, 2012
Peripheries, Manchester Asia Triennial, 4 Piccadilly Place, Manchester, 2011