世界中心 / The Centre of the World
单频道高清录像 / single-channel HD video,有声 / sound,5'50'',2011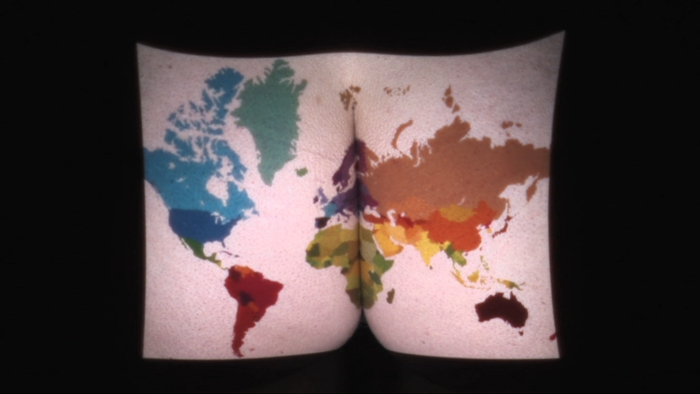 作品自述 / Artist Statement:
哪里是世界中心?在这个全球迈向多极化的过渡性时代,这可能是令所有人欲言又止的话题。像其它的分歧一样,基于不同的地缘政治需要,各国授权出版的世界地图承担了解释世界与自身关系的任务。地理常识由此奠定了基础性的国际经验。欧洲人习惯的世界样貌是亚洲在远东,美洲在大洋彼岸,欧洲是文明的出发点;而美国出版的地图则将欧亚大陆断为两截,非洲和欧洲居东,亚洲和澳洲镇西,自个儿居中;中国和日本出版的世界地图略显谦逊,虽然地图的中点划过印尼和澳大利亚,本国的地理位置仍不失为视觉上的中心。如果国家的经略和个人的观念尚可以在平面性的地图上获得重合,那么,一个集合了两个半球的单一形体理应更能反映这个世界的全貌。遍寻周遭,我发现只有饱满的人类臀部可以担此重任,于是我将缓慢自转的世界政治版图投影其上,让臀沟给出一个指标性的中线。这样一来,无论是哪儿都将有机会成为一次世界的中心。
Where is the center of the world located? In this transitional age, marked by massive global strides toward multi-polarity, this topic causes people to bite their tongues in hesitation. As is the case with disputes arising from differing geopolitical requirements, a world map takes on the responsibility of explaining the world and its relation to the country it is authorized by. In doing so, geographical common knowledge establishes a fundamental way of experiencing the international realm. The shape of the world as commonly acknowledged by Europeans is that of Asia located remotely in the East, America occupying its transoceanic land mass, and Europe as the departure point for civilization. American maps, on the other hand, separate the Eurasian continent into two halves, with Africa and Europe to the East, and Asia and Oceania to the West, placing itself smack in the middle of it all. Chinese and Japanese authorized maps show slight signs of humility: despite their center mark sweeping past Indonesia and Australia, China's geographical location still remains at the visual center.
If the outlines of a nation and the ideas of the individual are able to coincide on the flat surface of a map, then an integral shape formed by the conjoining of two half spheres ought to reflect the full view of the world even more aptly. After searching high and low, I found that only sturdy human buttocks could undertake the important task of representing the globe. I therefore projected onto them a slowly rotating map of global political territories, with the gluteal groove performing an indexical function as a central meridian. That way, any place in the world can at one point effectively fall to the center of the world.
*
展出履历 / Related Exhibitions:
野餐计划,池艺宁策展,北京德国文化中心·歌德学院,北京,2022
Replay,空白空间,北京,2018
"我们"之间, 朱家角尚都里,上海,2017
混血中的地球-多众知性公论场,釜山市立美术馆及高丽制钢水营工厂,釜山,2016
永不抵达,OCT当代艺术中心西安馆,西安,2014
入戏出戏 — 刘辛夷、王韬程、叶甫纳三人展,余德耀美术馆,雅加达,2013
探员L,空白空间,北京,2012
The Great Exhibition:陈天灼与刘辛夷双人展,Hatch Space,伦敦,2011
The Intimate Revolt, Curated by Chi Yining, Goethe Institut, Beijing, 2022
Replay, White Space Beijing, Beijing, 2018
Twin Interfaces, Shangduli, Zhujiajiao, Shanghai, 2017
Hybirding Earth-Discussing Multitude, Busan Biennale 2016, F1963, Busan, 2016
Never Arriving, 2014, OCAT Xi'an, Xi'an
Action…Cut! — Liu Xinyi, Wang Taocheng, Ye Funa Joint Exhibition, Yuz Museum, Jakarta
Agent L, 2012, White Space Beijing, Beijing, 2013
The Great Exhibition: Two Artists' Show of Chen Tianzhuo and Liu Xinyi, Hatch Space, London, 2011