阻止中国变笨 / Stop China Dumbing
丙烯、亚麻布、木框、木条 / acrylic, linen, wooden-frame, wooden stick,164×60×5 cm,2017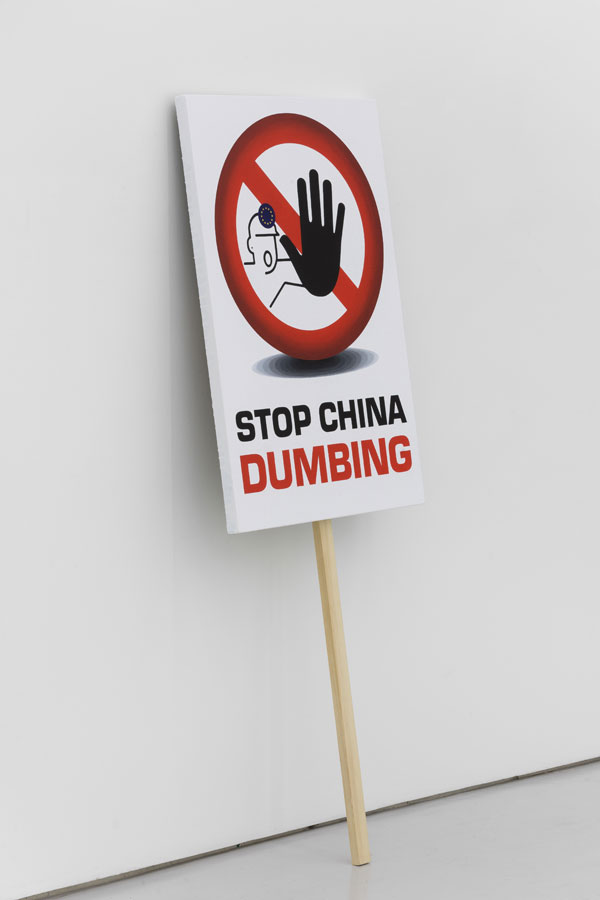 作品自述 / Artist Statement:
近年的国际新闻里,在欧洲出现一款"反华"标语牌:一个头戴欧盟标识的男人伸出一个制止意味的手势,下面一行字写着"阻止中国倾销"(Stop China Dumping)。我对这个标牌感受复杂,这个诉求背后是欧洲钢铁业认为面临来自中国钢铁出口的不当竞争。我觉得这个表述和我的生活也有着某种关系,特别是因为河北省的惊人的钢铁产能直接关系到包括北京在内的华北地区的恶劣的空气质量。于是我严格按照这些标语字牌的图像,做了一个新的标语牌。略有不同的是,标语中"阻止中国倾销"的英文表述,被我画成了"阻止中国变笨/哑言"(Stop China Dumbing)。
Recently, in international press there was an appearance of an "anti-Sino" sign in Europe: a man with an EU hat makes a forbidding hand gesture, and the subtitle of the photo goes "Stop China Dumping." I have complicated feelings about this image. The story behind this request is European steel and iron industry's accusation of China's unfair trades. I think this statement has a lot to do with my life, especially considering the incredible production of steel and iron in Hebei Province directly has impact on the pollution condition in Beijing and elsewhere in the north of China. I made a new protest placard strictly according to the original image except one minor adjustment— I replaced "Stop China Dumping" with "Stop China Dumbing".