帕尔米拉 / Palmyra
聚苯乙烯泡沫、水性涂料 / polystyrene, waterborne paint,"REUTERS": 600×96×62 cm;"TACC": 381×99×61 cm;"A"+"AFP"+"社": 360×205×63 cm;"新华"+"P"+"UPI":403×119×63 cm,总体尺寸可变 / overall dimensions variable,2016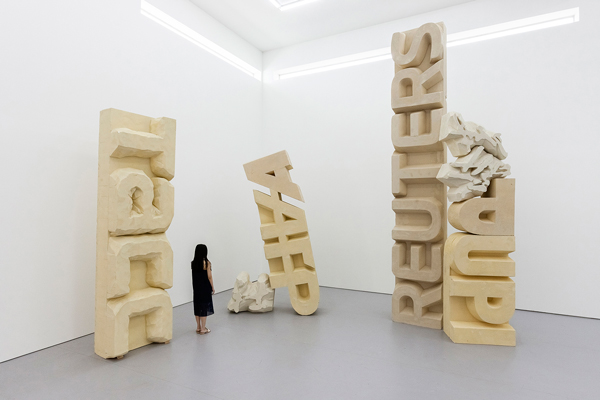 作品自述 / Artist Statement:
叙利亚古城帕尔米拉的命运因为伊斯兰国的占领,曾在全球社交媒体上引发了浪潮般的价值观共振。受众的悲情抑或依据于有效处理新闻素材的媒体视角和观点性报道。"帕尔米拉"以纪念碑的尺度,仿造文明残迹的视觉样貌,将塔斯社、法新社、路透社、新华社、美联社、合众社这六大世界性通讯社的LOGO搭建成一处迎接身体经验参与的信息景观。
The Islamic State's occupation of the ancient Syrian town of Palmyra has triggered an outpouring of sympathy concerning shared values on the world's social media. The audience's sorrow may be based on effective manipulation of news material by media perspectives and opinionated coverage. The work Palmyra takes on the dimensions of a memorial, in imitation of the visual appearance of a civilization's vestiges, taking the logo's of six global news agencies ITAR-TASS (RU), Agence France-Presse (FR), Reuters (GB), Xinhua (CH), Associated Press (US) and United Press International (US) and stacking them into an information landscape site that welcomes bodily experience and participation.
展出履历 / Related Exhibition:
十万八千里,空白空间,北京,2016
Hundred Thousand Miles Away, White Space Beijing, Beijing, 2016