皇家阳台 / Royal Balcony
聚苯乙烯泡沫、绒布、绳排、吊穗、花扣 / polystyrene, velvet, ropes, tassels, flower-shaped clasps,200×1100×70 cm,2016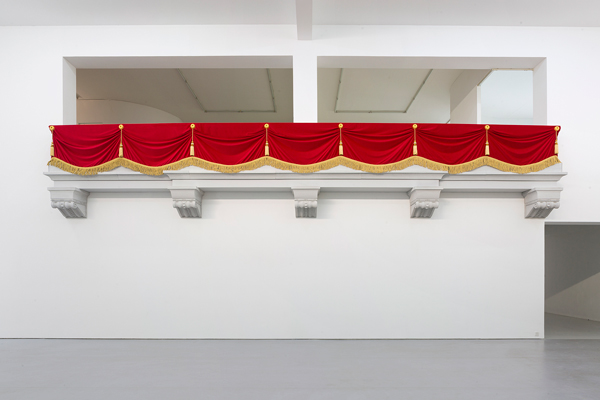 作品自述 / Artist Statement:
"皇家阳台"是在画廊空间中实施的在地空间装置。通过借助位于画廊二层的办公区域俯瞰一层展示空间的现成窗口,我在展厅内侧搭建了仿制自英国白金汉宫大阳台的立面装饰。"中国制造"的皇室阵仗成为了艺术观众和艺术机构之间日常观察和对话的置景。
The work Royal Balcony is a site-specific installation executed in the gallery space. The work makes use of the readily available window of the second floor working area overlooking the ground floor exhibition space. On the exhibition space interior's side, I construct an ornamental facade in simulation of the grand balcony of England's Buckingham Palace. A "Chinese-made" royal spectacle becomes a set decoration piece by means of which art visitors and the art institution can engage in daily observation and conversation.
展出履历 / Related Exhibition:
十万八千里,空白空间,北京,2016
Hundred Thousand Miles Away, White Space Beijing, Beijing, 2016