金银岛 / Treasure Island
单频道高清录像 / single-channel HD video,无声 / silent,1'23'',2012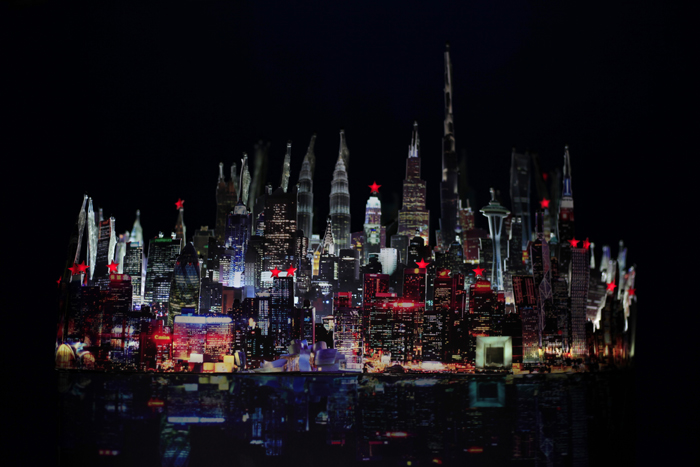 作品自述 / Artist Statement:
水岸边的摩天楼群作为象征现代化的景观深入人心。世界级的精英媒体《金融时报》(Financial Times)曾经集成上海、纽约、伦敦、法兰克福、吉隆坡等城市的天际线于一岛,在视觉上传达着财富界的标杆和对资本改造世界的信心。有鉴于此,我在互联网上搜集了各大金融中心的夜景图像,打印成图片,并依据各个地标在现实中的尺度,编排组合成一座浓缩了当代景观的岛城。而今,在中国大城市的夜空中,偶尔还能见到零星的红色五角星,它们出现在早年建造的共产主义意味的建筑物顶端。在今天看来,"红色五角星"携带了更复杂的含义:既有希望,更多的是权威,以及话语中的平权主义和欢庆气氛。有趣的是,这也全然匹配发展市场经济的愿景和需要。也因为这一发现,我用节日的灯串为这座繁荣都会的天际线配置了间歇亮灭的红五星。它们的职责或许同样复杂多样:组织严明和资本昌盛,至少看起来很是天造地设。
Skyscrapers on the shore have found their way into people's hearts as a scene representing modernization. In an issue of the world-class, elite news media The Financial Times, the skylines of Shanghai, New York, London, Frankfurt and Kuala Lumpur were cropped to form a rendering of a single island. Aesthetically, this image transmitted the benchmarks of the wealthy community and a confidence in the idea of capital as a world-changing phenomenon. With this in mind, I browsed the web to find nighttime shots of the world's major financial centers, then printed them out, and on the basis of the real sizes of the landmarks, arranged them into an island retreat consisting of miniaturized, contemporary landscapes.

Today, in the night-sky of China's big, sprawling cities, one can occasionally discern five-pointed stars scattered here and there, emblazoned on the top of early communist architecture. To this day, these 'five-pointed stars' are the carriers of a complex corpus of meaning: they signify hope, but even more so sovereignty, as well as egalitarianism in political discourse and a jubilatory atmosphere. Interestingly enough, this completely matches the vision and demands imposed by the development of the market economy. Building on this discovery, I arranged festival lanterns into intermittently blinking five-point stars meant for the skylines of these booming metropolises. The functions of these star's configurations are as complex as they are diverse: representing the strict organization and the thriving of capital, making them look like a match in heaven.
*
展出履历 / Related Exhibitions:
Replay,空白空间,北京,2018
混血中的地球-多众知性公论场,釜山市立美术馆及高丽制钢水营工厂,釜山,2016
旋构塔 - 青年艺术实验场,北京时代美术馆,北京,2016
洄游 平流层:超科技创意考,圣之空间,北京,中国,2016
中国当代摄影 2009-2014,民生现代美术馆,上海,2014
2009年以来的中国新摄影,武汉美术馆,武汉,2014
灵光与后灵光,中华世纪坛当代艺术馆,北京,2013
On | Off:中国年轻艺术家的观念与实践,尤伦斯当代艺术中心,北京,2013
Replay, White Space Beijing, Beijing, 2018
Hybirding Earth-Discussing Multitude,Busan Biennale 2016, F1963, Busan, 2016
Migratory Stratosphere: Super Science and Technology Creative Art Exhibition, SZ Art Center, Beijing, 2016
Up-Youth:China Young Artists Exhibition 2016, Beijing Times Art Museum, Beijing, 2016
Contemporary Photography in China 2009-2014, Minsheng Art Museum, Shanghai, 2014
New Photos since 2009, Wuhan Art Museum, Wuhan, 2014
Aura and Post Aura, China Millennium Monument, Beijing, 2013
On | Off: China's Young Artists in Concept and Practice, Ullens Center of Contemporary Art, Beijing, 2013