土豆烧牛肉 / Goulash
2014年9月6日 - 10月19日 / Sep 6th - Oct 19th, 2014
空白空间, 北京 / White Space Beijing, Beijing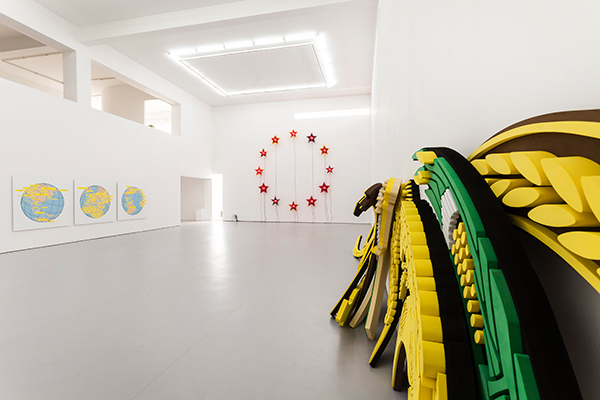 项目自述 / Artist Statement:
土豆烧牛肉"的来由是我父亲借助赫鲁晓夫的名言为家庭生活提供的共产主义概念。后经我的查证,这一玩笑源自于1958年新华社《参考消息》报道赫氏在访问布达佩斯时提及的当地名菜Goulash,以此向匈牙利百姓勾画一个富足社会的未来图景。这一比喻使得原本话语严密的政治关联上了普通人的俗常。有趣的是当时中方的编辑人员将这个语境直接替换上了一道中餐菜名,以至于一度在中国国内影响甚深。且不论彼时编译外来概念的方式和国内舆论对于这一解释的反应,这一概念替换的历史标本启发了我对自身工作的新认识。例如借助分析菜谱的构成的方式来分解某些复杂政治概念背后既有的视觉元素,隔离其中原本相互作用的象征指向,以及政治性的知识在视觉解读中蕴含的丰富潜能。在此项目中,我即实践了以上的工作路径。我以那些曾经代表了共产主义理想,却已经不复存在社会主义国家的国徽的视觉形象为素材库,结合我对今日世界所面对的多种遗留性的政治议题的兴趣,展开了一次观念性的理解之旅。
The term of "Roast Potatoes and Beef" was firstly known to me from my father's bantering appropriation of Nikita Sergeyevich Khrushchev's quote to celebrate of achieving Communism in our family life. Later, through my verification, this joke first appeared on the "Cankao Xiaoxi" published by the Xinhua News Agency in 1958 from Khrushchev's visit to Budapest and his mention of a local dish, the Goulash. By which, Khrushchev envisioned a future with prosperous social imagination for the Hungarian people. Nevertheless, the metaphor brought the precise politics relevant to everyday customs of general public. Interestingly, the Chinese interpreter translated the context of Goulash according to a Chinese dish, which left an even lasting impact in China. Regardless of the editor's translation of foreign ideas and its response to this explanation in China at that time, the historical sample highlighted inspired a new understanding of my own practice. For example, how to deconstruct visual elements behind complex political concepts through the analysis of its menu structures; how to quarantine these mutually effective elements from their original discourses as well as the diverse potential embedded in visual understanding of political knowledge. In this exhibition, I experiment with this work approach. I adopt the visual elements of national emblems of defunct socialist states that once ruled by communist ideology as resources, while combining with my interest in the various political legacies the world confronts today, to endeavour on a conceptual journey of interpretations.

项目资料下载 / project dossier download