请勿穿越 / No Passing Through
2013年8月22日-12月31日 / Aug 22nd - Dec 31st, 2013
艺术连廊, 泰康人寿基地, 北京 / Art Corridor Project, Taikang Life Insurance, Beijing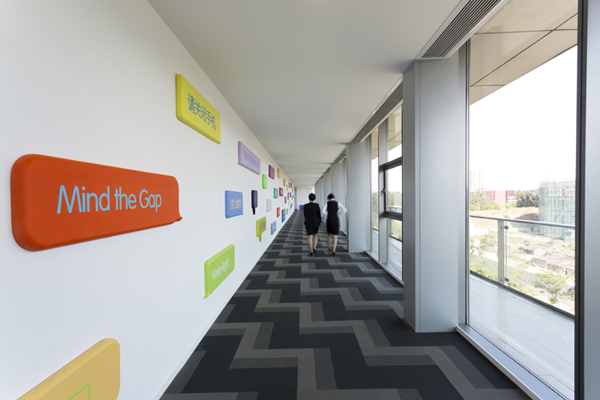 项目自述 / Artist text:
"请勿穿越"是我为"艺术连廊"项目空间制作的一组场域特定装置。项目的背景来源于我在自己生活过的城市公共空间中采集的一系列行为规范用语。与常见刻板的规范性用语的呈现不同,我将它们嵌入智能手机中消息对话框,结合消费时代的缤纷明快的色彩配制成一组私密化了的标示牌,以此回应当代中国在城市化进程中,政治和资本期望快速改造城市体验和提升人口素质的急切愿景。
这些标示牌被集中安装在一条34米长的人行通道的墙面上,连接着该保险公司内部的两个业务区块。就像作品标题"请勿穿越"出现在这里的悖论,当这些行为规范连续出现在一条通道中时,它们的语义也在行走过程所需的时间作用下,经由偶发的注意力迁移,令观众自发混合出严苛与戏谑的双重体验。
—
No Passing Through is an site-specific installation I made for the "Art Corridor" project space, existing of a series of phrasings pertaining to behavioral norms, collected from public spaces over a number of cities I have inhabited. I altered the appearance of these ubiquitous and stiff-looking phrases aimed at regulating social behavior, and completed them by placing them in the shape of cellphone short message speech bubbles. I combined them with the flashy and ornate color schemes found in today's consumerist society, a set of private signs to respond the keen vision of hurriedly adjusting the urban experience and upgrading population quality aspired by politics and capital in contemporary China amid current processes of urbanization.
The signboards are mounted on the wall of a 34-meter long pedestrian corridor, which interlinks two business operation divisions within an insurance company. Asparadoxical as the work's title No Passing Through, the successive appearance of behavioral norms in a corridor causes audiences to spontaneously blend the semantic meanings of the phrases into a harsh yet playful experience, as a trajectory of attention is spontaneously generated in the time needed to traverse this hallway.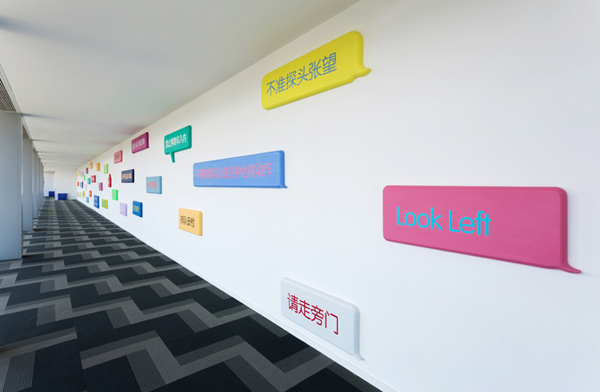 松木板,丙烯 / furniture boards pine, acrylic paints,共计35件 / set of 35 pcs,45~240 x 40~70 x 5 cm / 18~94 x 16~28 x 2 inches (件 / each), 2013