一夜回到解放前 / One Night Back to Wartime
航标灯、控制器、亚克力板、电缆 / beacon lights, timer, acrylic panels, cable, 65×68×53 cm 件 / each,共计12件 / a set of 12 pcs,总体尺寸 / overall dimensions: 584×522×53 cm,2014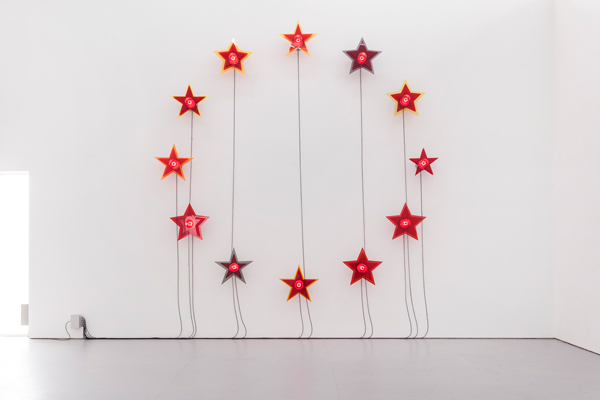 作品自述 / Artist text:
出于对全球史进程的兴趣,我留意到有9个前社会主义国家前后改换门庭加入了欧盟,另有3个以上正在排队等候接纳。其中既包括捷克、罗马尼亚和匈牙利这些传统东欧国家,也包括了从前苏联独立出去的波罗的海三国以及克罗地亚、斯洛文尼亚等多个前南斯拉夫的加盟共和国。这些国家的总数对应了欧盟标识上的五角星的数量。
—
这一发现启发了我从这些前社会主义国家曾经使用的国徽中找出了12个各具特点的五角星,参考这些国家的地理方位,以欧盟标识的样式,对它们重新编排组织。借由现实中的航标灯,我将这些波普风格的彩色五角星一齐点亮,组合出一副间歇闪灭的环形表盘。
Inspired by an interest in the course of global history, I focused my attention on 9 ex-socialist countries that more or less consecutively traded in their socialist framework for a seat in the European Union. Three others are currently awaiting their admission to this political body. Among these feature traditional Eastern European countries such as the Czech Republic, Romania and Hungary, as well as Baltic States that seceded from the Soviet Union and have since then gained independence, as well as Croatia, Slovenia and other Republics of the Socialist Federal Republic of Yugoslavia. The total number of these countries bears correspondence with the amount of 5-pointed stars featured in the European Union logo.
This realization led me to search for the 12 characteristic 5-pointed star symbols among the national emblems formerly used by these ex-socialist states. I then configure them into the pattern currently in use as the logo of the European Union, with implicit reference to these countries' respective geographical positions. With beacon lights taken from reality, I illuminate these colorful five-pointed stars with their pop art aesthetic all at once, and arrange them into a circular dial, flashing intermittently.
*
展出履历 / Related Exhibition:
土豆烧牛肉,空白空间,北京,2014
Goulash, White Space Beijing, Beijing, 2014