捉影人 / Shadow Seeker
桃木板、虫胶、不锈钢镜、铜管、脚轮、把套、镀锌螺丝、不锈钢螺母、手电筒、手电支架 / peach wood boards, shellac, stainless steel mirrors, copper tubes, casters, hand grips, galvanized screws, stainless steel nuts, flashlights, flashlight mounts,86×38×38 cm, 140×44×44 cm, 136×49×49 cm , 2019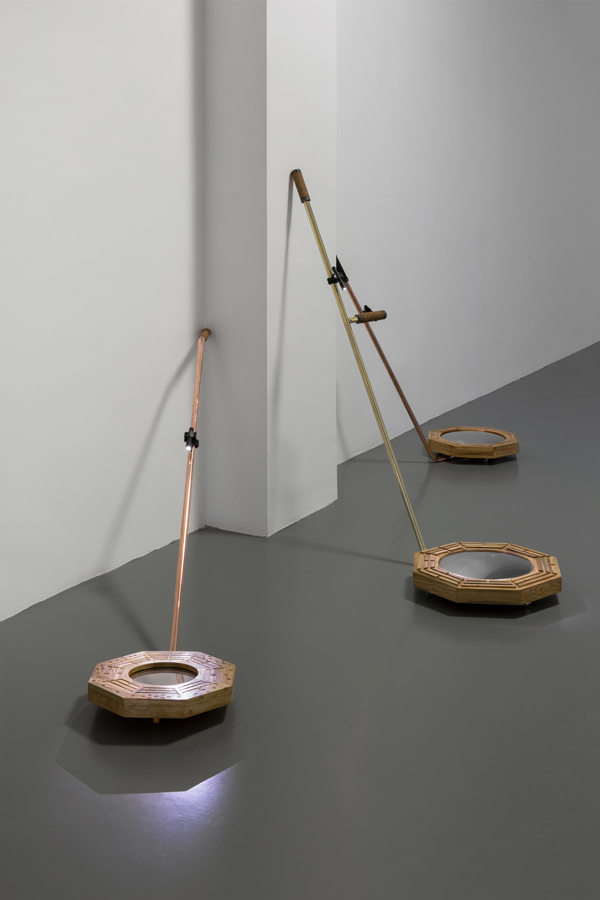 作品自述 / Artist text:
近些年来,我越发能够留意到职业安保群体、安保系统的在场性与不可见的公共安全管理逻辑有着同步的戏剧性扩张。一个与以上两者都高度相关的背景应该包括中国城市的剧烈转型:即便在经济理性上需要鼓励人口流动,在社会心理上也会强化对流动人口的不安全感并反映在政策和社会现场之中。因而最容易见证密集安保系统和人员配置的地方通常也是流通量最高的交通枢纽,如国内一线城市的机场、高铁站、地铁站以及高速检查站等。
这种两重性体验也帮我桥接起记忆中两段本不会相交的个人经历:在东南亚的国家乘车进入公共场所前,需配合安保人员排查汽车底盘上是否安装了可疑装置;在珠三角的老城区常有机会留意到民宅门前各式各样的八卦镜。人们似乎共享一种跨越地域和文化的历史经验,即敌对行为总是在看不见的地方伺机而动,因此有必要在目光所及之处,展现某些有着震慑意味的仪式,并期望外来的窥探在一种秩序操演面前能够知难而退。
这类操演或能追溯至许多文明的诞生之初,且一路延展至今日的网络空间中的公共表达。这种经久不衰的仪式启发我尝试将其中的两种关键道具:安检镜和八卦镜,在保留各自范式的前提下融合出一种法器:既给安检镜加持了驱逐鬼魅的神力,也让八卦镜增加了意外的机动性和应用场景。
在为这件作品命名时,我参考了汽车品牌对车款人格化的命名方式。制作并展示这些浮夸的安检器物,并非为了庆贺对流动中的人、物甚或无形的信息、数据的查验。或许它们的存在能够显像一种越来越有正当性的旧心智乃至旧营生。
—
The works in this set are a follow-up to my interest of the formal and informal aspects of policing that can be encountered by individuals, in particular observing the dramatic development of the professional security workforce, the presence of the security system and the simultaneous development of the logic of the non-visible management of public security. The context for both is the dramatic transformation of China's cities: even if there is an economic rationality to encourage mobility, there is a psychosocial reinforcement of the insecurity of the migrant population, which is reflected in the policy and social scene. As a result, the places that are most likely to witness intensive security systems and personnel deployment are usually the transportation hubs with the highest circulation, such as airports, high-speed rail stations, subway stations, and highway checkpoints in the country's first-tier cities.
This kind of experiential ambivalence helped me bridge two personal experiences in my memory that would not have intersected: before entering a public place by car in a Southeast Asian country, I had to cooperate with the security personnel to check whether there were any suspicious devices installed on the chassis of the car; when walking around in the old cites of the Pearl River Delta of Guangdong Province, China, I often had the opportunity to notice all kinds of bagua mirrors in front of the doors of the residential houses. There seems to be a shared historical experience across geographies and cultures that there is always a potential for hostility waiting to strike, and that it is necessary to display some sort of deterrent ritual wherever one looks, and to expect outsiders to back off.
This type of ritual can be traced back to the dawn of Chinese civilization and extends all the way to the expression of opinions in cyberspace today. This enduring ritual inspired me to try to combine two of its key props, the security mirror and the bagua mirror, into a kind of magic device while retaining their respective paradigms: the security mirror is imbued with the power to expel ghosts and phantoms, while the bagua mirror adds unexpected mobility and application scenarios.
In naming the work, I referenced the way certain car companies name their car models of personification. However, the production and display of these more or less exaggerated security devices is not to celebrate the checking of people, objects or even intangible information and data in the flow, but rather to visualize an historical mentality or even an old profession that has already returned to the stage.
*
展出履历 / Related Exhibitions:
智能秩序,69 Art Campus,北京,2023
漫游者之歌,空白空间,北京,2019
Smart Order, 69 Art Campus, Beijing, 2023
A White Space Odyssey, White Space Beijing, Beijing, 2019