哟! / Yo!
工具挂板、防暴叉、防暴盾、警棍、手铐、漆 / peg boards, anti-riot fork, anti-riot shield, baton, handcuffs, lacquer,150×201×24 cm,2015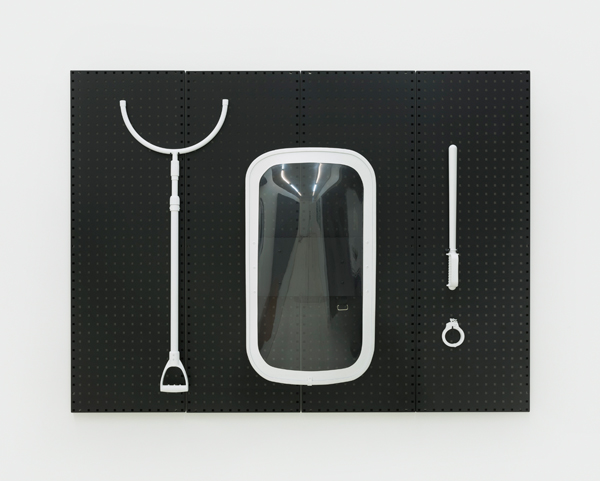 作品自述 / Artist text:
针对城市平民的恐怖袭击和反恐举措,很可能会和上个世纪接连不断的战事一般,成为21世纪生活中的寻常事物。近几年来,一些非致命性的警用装备以越来越高的频率出现在国内的火车站,地铁站,学校以及居民小区等公共场所。这些器物组成的阵势令我关注起这些警用物品在其设计功能之外的潜力。在将防暴叉,盾牌,塑胶棍和手铐以一种仪式化的方式安装在工具挂板上后,这些常见的安保装备得以变身为一句流行于hip-hop街头文化中的俚语问候:YO!。
—
Terrorist attacks and counter-terrorist measures aimed at regular urban civilians are very likely to become ordinary occurrences of the 21st century, just like the rapidly succeeding hostilities that dominated the previous century. In recent years, non-lethal police equipment has been making increasingly frequent appearances in public places in China such as train stations, subway stations, schools and residential communities. The way in which these utensils have been arranged, allows me to pay closer attention to the innate potential of this police equipment, other than the functions it was originally designed for. By mounting anti-riot forks, shields, batons and handcuffs ritually onto a wall panel intended for mounting tools and other implements, I spontaneously configure these security equipments into a popular slang greeting in hip-hop street culture: YO!
*
展出履历 / Related Exhibitions:
时间的图景:青年的尺度,第四届三亚艺术季,三亚,2015
上海廿一博览会,上海展览中心,上海,2015
Scenarios of Time: Inter-Subjectivity, The Fourth Art Sanya, Sanya, 2015
Art 021, Shanghai Exhibition Center, Shanghai, 2015