探员L / Agent L
2012年6月23日 - 7月30日 / Jun 23rd - Jul 30th, 2012
空白空间, 北京 / White Space Beijing, Beijing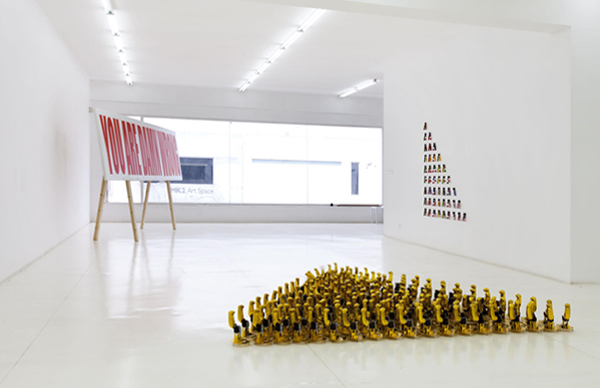 项目自述 / Artist Statement:
如果说政治家的工作是尽力清理出纷乱现象中的头绪,从而给我们提供一个清晰明了的世界,那么,艺术家或许该去干点别的。出于对话语引导机制的好奇心,我的创作关心当代条件下的政治体验和它可能的机遇。其中的工作包括采集多种形式的政治知识,混编它们的逻辑,并为之设计奇异的语境,将已不被怀疑的知识再造为体会这个世界的新途径。此次展览中6件作品集中展示了这种工作逻辑,它们都来自于我在伦敦生活时遭遇的不同机缘,以及试图在荒谬和觉悟之间自问自答的尝试。
If it it is the politician's job to clarify the messy phenomena out of all the chaos around us, in order to present a clear view of the world, then perhaps it is the artist's job to do something else. Out of his curiosity to probe the guiding mechanisms of public discourse, I creates works that focus on observing political experience and its potential in the contemporary world. This task includes collecting various forms of political knowledge, mixing up its logic and combining it into unexpected contexts, with the aim of transforming those undoubted facts into new perceptions of seeing the world. Six of the presented works in this project showcased this work logic. They all came from various expericence that I encountered in my life in London, as well as the fellow-up efforts to seek comprehensions between consciousness and absurd through asking myself and self-answer.