平民邦交 / Civil Diplomacy
2011年5月21日-9月17日 / May 21st - Sep 17th, 2011
华人艺术中心,曼彻斯特 / Chinese Arts Centre, Manchester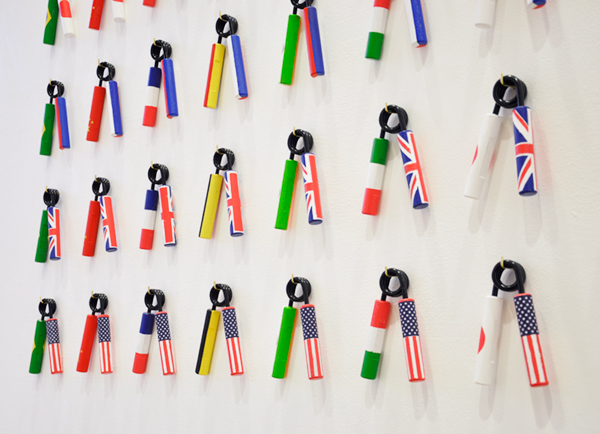 Press Release by Chinese Arts Centre:
Liu Xinyi, a recent Masters graduate from Goldsmiths, creates work that focuses on utilising and transforming various forms of political knowledge into new perceptions of seeing the world. Working mostly in sculpture and installation, Xinyi references historical figures and key political moments in time to visualise his view point.

There are elements of satire and a clear charm to Xinyi's work. His First Step Showcase will continue this line of investigation into politics, creating an installation that focuses on the various 'power nations' in today's world.

Xinyi has carefully selected the grippers, however to involve more physical work as you descend the stairwell, building up the tension between countries as you make your way down from the initial first step. Please feel free to interact with the works and Xinyi is keen for the public to take images of themselves trying to re-unite these nations within the space.
You can send your images into us via our contact form and we can post them on Chinese Arts Centre blog. If you do not have a camera or camera phone then simply ask a member of staff and we can take one for you.
*